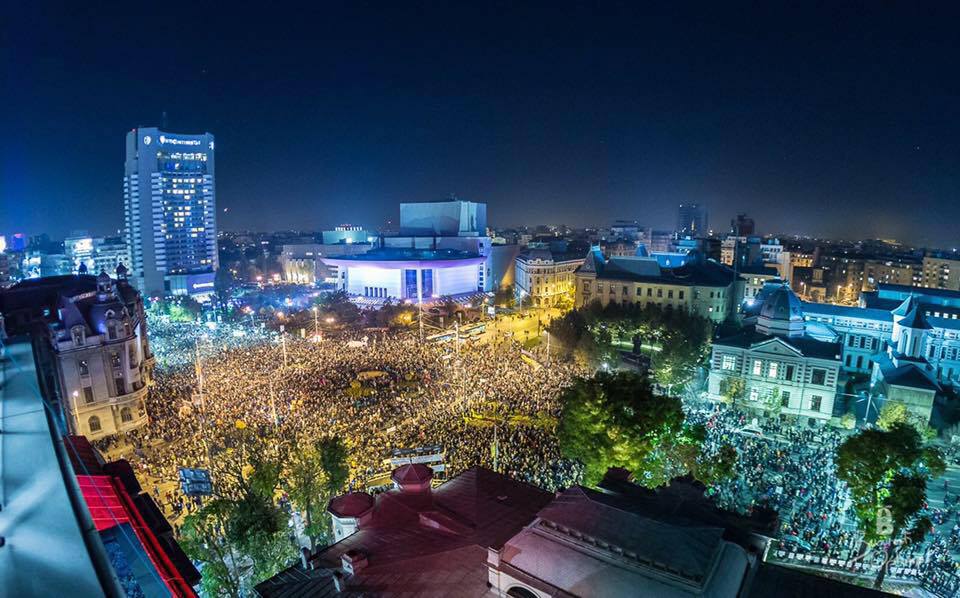 This week in Bucharest has unquestionably been one of the more eventful of our time in the Romanian capital, one which – with impeccable timing – in fact caught us in London until late on Thursday evening. As such, as much as we'd like to say that we were out there on the streets of Bucharest trying to turn the world upside down we weren't. We were watching Chelsea rather fortunately beat Dynamo Kyiv, amongst other things. We shall not be penning a book entitled Victor Ponta: Our Role in his Downfall anytime soon.
Last Friday, a fire at a club, Colectiv, killed 27 people. Six have since died of their injuries in hospital and tens remain – a week on – in a critical condition. The death toll may rise even further.
After three days of national mourning and inaction on the part of the government, tens of thousands of Romanians – mainly young people – took to the streets of Bucharest on Tuesday night to demand the resignation of prime minister Victor Ponta, interior minister Gabriel Oprea and the mayor of Bucharest's Sector 4 (in which the club is located) Cristian Popescu Piedone. Arguably the largest demonstration since 1990, its sheer size, and the level of public anger that went with it, meant that this time, finally, Ponta could not hang on. He resigned on Wednesday morning. As is the protocol in Romania, when a prime minister resigns, the government follows.
The education minister, Sorin Campeanu, will serve as interim PM until a new, permanent prime minister is named.
Not satisfied that the government had fallen, even more people took to the streets of Bucharest on Wednesday night, joined by others in a number of cities around the country. At the peak of the protests, around 10pm, at least 75,000 were out on the streets in city or another, roughly half of them in the capital.
On Thursday, Romania's dithering president Klaus Iohannis began formal consultations with the parliamentary parties regarding the future. Of the two main parties, the PSD are most keen to try and keep their majority intact, while the opposition PNL wants parliament dissolved and new elections held.
Those who have been protesting want neither a new PSD-dominated government nor a general election (which would in all likeliness see a PNL-dominated government elected). As such, further demonstrations were held on Thursday night: while smaller than the previous two evenings at least 10,000 were out in Bucharest's Piata Universitatii.
On Friday, Iohannis met with representatives of various NGOs. Some – Sorin Ionita, Dan Nicusor – were more representative of what is termed 'civil society' than others (who we shan't bother to name). Indeed, at least five of the major civil society NGOs (including Ionita's Export Forum) have come up with a ten-point plan for the immediate future (until the end of this year), one we broadly agree with.
It includes naming a credible (read: non-political) prime minister, a return to the two-stage voting system for mayors, the immediate revocation of mandates for mayors and local councillors who have changed party since election, more power for the anti-corruption agency, the DNA, and sacking the bosses of all state-owned companies currently under investigation (more or less all of them).
Beyond that, there is of course much else that needs to be done. It should now be clear to anyone except the most stubborn ostrich that the fire at Colectiv was the final straw for most Romanians who, after decades of corruption have finally, belatedly had enough. The demonstrations which began on Tuesday night are not merely about changing government, but changing the country. For the time being, Iohannis (and only Iohannis – even the usually sacred church has come under attack) has been spared the wrath of the mob. If he gets his next move wrong however, he will be the next target.
Meantime, the demonstrations go on. We will join them this evening.
—
PS Who would we choose as the credible prime minister? Easy: Laura Codruta Kovesi, boss of the DNA.
—
PPS If you read just one article about what's currently happening in Romania, make sure you read this one. Twice.